In the development world, testing has a reputation for being a critically important but somewhat tedious task. That's not the case at CrowdStrike! Our Software Development Engineers in Test (SDET) do much more than test the code — they're involved from the outset of every project, working alongside the product team as developers in addition to QA engineers.
Here to talk about her exciting role as an SDET for CrowdStrike Romania is Hulia Suliman.
Q. Tell me about your role as Software Development Engineer in Test (SDET). What does it entail day to day?
SDET is an engineer who can work equally in both development and testing roles. SDETs take part in the complete software development process, as well as the software testing process. We help build and maintain the tools and frameworks that support delivering high-quality products to CrowdStrike's enterprise customers. Our mantra is "Make it easy for everyone to test the right things, at the right time."
The roles in the SDET team are fairly fluid. Right now, I perform backend testing, but in the near future I might switch to mobile or web UI testing, depending on the project's needs. That's how it is for any SDET on the team. Even if we don't have experience in some particular area, we are able to shift really fast. For example, when I joined CrowdStrike, although I had never worked with Python before, my team offered the support I needed to quickly catch up. They were ready to help every step of the way.
Q. What is the culture like at CrowdStrike, and in Romania in particular?
I love the culture here — it really brings out the best in people, so I am very happy with the decision to join this amazing company. People here do everything they can to share knowledge, provide feedback and communicate openly. The willingness to help others is the quality that best describes the people at CrowdStrike.
I'm also impressed with the management style here: It instills a sense of trust in people. We have a lot of independence, and we are encouraged to choose the best technical solutions we can find. Having a sense of ownership and empowerment in my job is very important for me.
Q. Did the job differ at all from what you expected?
It's quite different, actually, but in a good way! In many companies, the testing framework is project-specific, but at CrowdStrike, there is a single testing framework that covers the needs of all company projects. Even if we work in different teams, we contribute to the same framework, and we're exposed to what everyone else is working on. This way, it's easier to understand how other products are being tested. The fact that you're not confined to your main area of focus is exciting, and it keeps the job interesting!
Q. What advice can you give to women who want to work in tech?
My advice for every woman who wants to start a career in IT is to keep following her dreams and gut. You have to get out and take the opportunity to meet the people who will sustain, encourage and empower you. There are a lot of companies that want to help women be a bigger part of the tech industry. CrowdStrike is one of them. We're all equal members of the team.
Q. How do you stay inspired?
I like art — painting and drawing are my little pleasures. I always keep my pencil on my desk, near my laptop, and sometimes when I have a minute or two, I like to sketch because it helps me to relax. Here are some of my favorite pieces: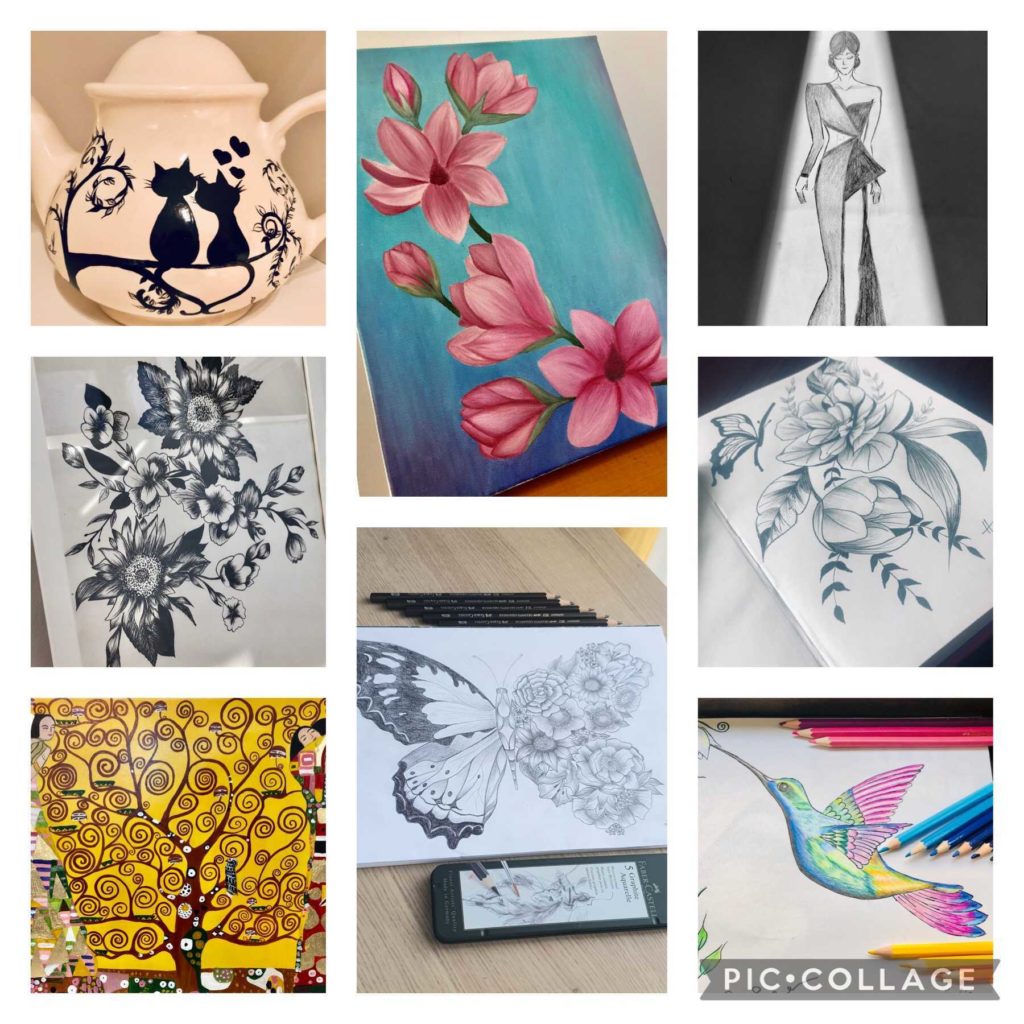 Are you ready to work for an organization unlike any other? Browse our job listings today.