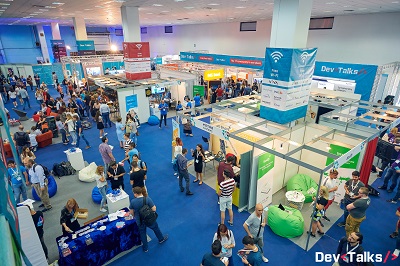 Let's give a round of applause for the 5th edition of DevTalks Bucharest
For the 5th time in a row we can say "We did it again!". For one day, DevTalks gathered the forces of the most dedicated and powerful tech community in Bucharest and inspired the next steps of the local tech industry.
We are proud that we got together with us at this edition 1500+ participants from more than 15 countries, who brought incredible insights and strong connections.
Developers, CEOs, founders, freelancers, Java champions, Evangelists, and not only discussed about the latest and hottest trends in IT, made the most of a powerful networking opportunity and got inspired by a full day of insights, examples, case studies, and lessons learned.
Here is to another great edition with a lot of emotions, excitement and power to bring the best experience of the IT community in Romania at DevTalks!
7 Conferences & 90+ speakers in one place
The Agenda of the 5th edition of DevTalks Bucharest reunited in the same place over 90+ great speakers from all around the world.
They were leaders, IT professionals, Champions, Evangelists, CEOs from: Washington, New York, London, Tel Aviv, Amsterdam or Hong Kong who shared their knowledge and skills for all the participants who wants to excel in their career and find new insights to inspire their day by day work.
We had with us speakers like:
Axel Fontaine – Java Champion and Founder at CEO at nBoxfuse GmbH

Adrian Hornsby – Cloud Architecture Evangelist at Amazon Web Services

Felipe Hoffa – Developer Advocate at Google

Björn Rabenstein- Production Engineer at SoundCloud

Dee Liyanwela- Executive Director, Technology & Head of LSEG SRI LANKA

James Crow – Managing Director Product Architecture, UnaVista at London Stock Exchange Group

Michael Busch – Head of Technology at ING Tech

Conrad Wöltge –  CTO at Netcentric

Mihai Raulea – Java Chief Architect at Crossover

Jürgen Boekholt – Managing Director at METRO SYSTEMS Romania and COO – METRO-NOM

Wiliam Bognar – Technical Product Manager at UiPath – Robotic Process Automation

Volker Grossmann – Senior Director, Dev. Center Romania Engineering / R&D, Connected Car at Harman Romania
The list continues with our awesome speakers who we'd like to give a round of applause and a big thank you for being here with us at this edition!


Following the latest and more desired topics in technology, this time we wanted to grow and that's why we've designed 7 stages dedicated to content sessions, demos, live coding and case studies.
On the Main Stage we talked about the Emerging Technologies (IoT, Ai, Robotics, VR/AR etc.).  Here, our speakers discussed about creating AI solutions for a safer future, exploring how through the anthropomorphism of machines, we're creating fabricated empathy that will change the human experience, how we're asking machines to make ethical decisions they're grossly unprepared to do, and why AI won't create an apocalypse of robots who take over the world or about the Cambrian explosion of IoT.
The focus of the Web & Mobile Stage was on the latest trends in the field as well as on the new perspectives. The main topics discussed were: Web – VR battle, the evolution of asynchronous JavaScript and topics about WebAssembly, a new compilation target for the Web.
For the Big Data and Cloud enthusiasts, we had the Datafication Stage, where speakers from Amazon, Google or TransferWise talked about protecting sensitive data, the best practices and how to efficiently build apps for the AWS cloud, including, Streaming Data and Machine Learning. Speakers from Amazon, SoundCloud or ING Tech presented case studies, tools and examples for the DevOps professionals on the stage dedicated to this field.
The Java and Product Management Stages had a huge success at this edition of DevTalks. The Java Stage shined thanks to Axel Fontaine, Java Champion who talks about majestic modular monoliths and answered to all the questions.
Because the car will be the new hub in technology, we've designed a stage dedicated to the Automotive industry. On this stage, the speakers approached impact subjects for the evolution of technology.
Hands-on DevAfterWork workshop powered by Resin.io
Prior to DevTalks, the IT community also was invited to attend the workshop "Modern Easy IoT with Docker & Resin.io" powered by Resin.io and hosted by Tim Perry, Senior Software Engineer. In order to give the participants the chance to make the most of this experience, we organized for the first time the workshop outside the event.
On 7th of June, for around 2 hours, 25+ participants met in an informal set at a new meet-up event for the tech community to put into practice new skills and built an IoT device.
Also, the participants had at their disposal to use in the workshop and to keep for themselves afterwards Raspberry Pi 3, with a Sense HAT.
Startup Area & Pitching Sessions
One of the DevTalks purposes is to encourage the IT entrepreneurs to show their ambitious ideas and innovative projects, exchange ideas and learn new business strategies from our mentors.
This year we had 10+ startups who shared their ideas and awesome projects in front of our participants on the Emerging Tech and Product Management Stages. The prizes didn't miss! The winner of this edition was BrainyAnt and UiPath offered them the opportunity to participate at Web Summit 2018.
Fun Area powered by eMAG & cool Gadgets
Part of the DevTalks experience was the Gadgets & Fun Area. We've designed a special area for the participants' entertainment with cool gadgets.
The escape room concept has been tested through a VR experience and for the lovers of racing there was a Racing Simulator brought by Redbull. The attraction of this edition was Sawyer, the robot who entertained the atmosphere and served the participants with coffee.
The participants fascinated about technology had the chance to meet also, Pepper, the ground-breaking humanoid robot with the ability to read emotions.
Also, the refreshment breaks were powered by our partners who took care of our participants for the entire day: we would like to thank to our Coffee Partner ,Tassimo, and to Relaxopedia, Pauza de Fructe, and Peroni for taking care of the entertainment of the DevTalks participants.



The Tech Expo experience
Every year, we are lucky enough to have together with us the support of important tech companies in Romania. They decide to join our forces and transform a day in the largest opportunity of sharing ideas for the tech community in Romania. This year, 30+ leading companies shared their experiences and created the perfect set to interact and discuss about the latest innovations through insightful talks or at their booth.




This time, we wanted to create a bigger experience, and we made it! The sky was the limit! Robots, contests, coding sessions, these were just a small part of all the buzz and the fun created in the Expo Area. We made things happen together and DevTalks was once again the place where technology won the place.
For this, we want to thank again to all our partners for their trust and involvement:
Main Partner – London Stock Exchange Group;

Stage Partners: DevOps – ING Tech, Datafication – CrossOver, Web & Mobile – Netcentric, Java – Metro Systems, Automotive – Harman, Product Management – UiPath;

Fun Area powered by eMAG;

Networking Partners – Dell, Verint;

Digital Transformation Partner – Stefanini;

Gold Partners – Ericsson, Luxoft, Endava, Accenture, Deloitte, Bearing Point, Deutsche Bank, Hey, Be well, Resin.io, Kambi, Team Extension;

Silver Partners – Asseco, Axway, EveryMatrix, Systematic, Taxify, Gameloft, Amazon Web Services, Nordic Web Team, Verint, MySQL;

Startup Area powered by Techcelerator;

Official Mobility Partner – Automobile Bavaria.
Close to us were also our Strategic & Logistic partners to whom we would like to thank for all their support! See all our partners here: http://www.devtalks.ro/bucharest/partners/